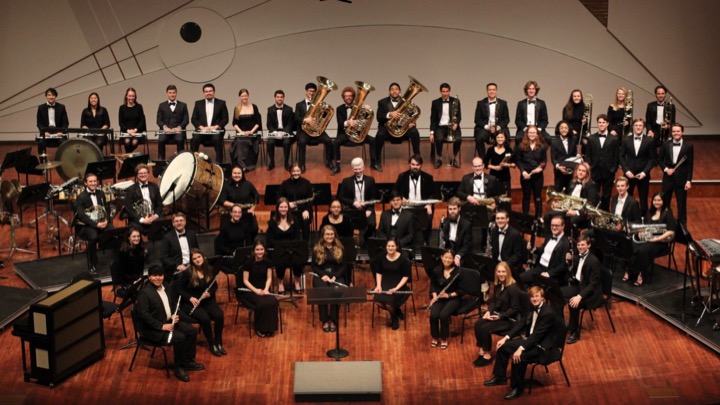 Audition Information
Admission into the Cal Poly concert band program is determined through a relaxed audition process administered at the beginning of the fall quarter. All students who have experience performing in a wind ensemble or symphonic band, regardless of major, are encouraged to schedule an audition.
Audition Scheduling
Auditions for fall quarter Wind Bands are now closed. Winter quarter auditions take place during the final weeks of fall quarter. Additional opportunities may be available during the first week of winter quarter, provided seats are availalbe in the Wind Orchestra or Wind Ensemble.
It is common for musicians of all levels to be nervous about their audition. Cal Poly Bands has a long tradition of serving performers from all musical backgrounds. There are members of the Wind Ensemble and Wind Orchestra with a wide range of ability and experience levels, including many that never performed an audition until their first quarter as a university student. The directors strive to accomodate all students and will work hard to make sure that you feel comfortable and relaxed during your audition.
All Auditionees should completet the Personnel Audition Form. 2022-23 procedures continue to include a couple options to maximize access to students. Audition results, including ensemble and chair assignments, will be distributed via email after auditions have concluded. Two ways to audition:
Pre-recorded video via unlisted YouTube or Vimeo link (Have this handy when you complete the form below.)
Live, in person by appointment tool included in the form below. New students are encouraged to pursue this option
How you would like us to hear your audition
If auditioning via YouTube or Vimeo, be sure to have your unlisted YouTube link handy before you start completing the Personnel Audition Form.
Auditions for any available seats in winter and spring quarters can take place during Band faculty office hours.
Audition Information
For the performance component of the audition, students are asked to select TWO excerpts from the music provided below. For woodwind, brass, and string players, one excerpt should feature lyrical playing while the other should showcase technical ability. For percussionists, the two excerpts should be on different instruments (snare drum and timpani, timpani and mallets, or snare drum and mallets.) Performers have the option to bring a third selection of their own choosing; however, the first two excerpts performed during the audition must be selected from the sheet music provided here. (Please note that a third selection is not required.)
Notes
:
The two excerpts performed during the audition are entirely the decision of the student performer. The director will not ask to hear anything else from the audition packets.
Flutists who are interested in performing on piccolo should prepare a an additional excerpt to be performed during their audition. The piccolo excerpt should be selected from this audition packet.
Anyone interested in auditioning on harp or piano should contact the director for more information on audition policies for these instruments.
Recording Tips
If you are preparing a YouTube or Vimeo audition, we are eager to hear your best playing, and our music technology colleagues have some recommendations on how to best convey your sound in recording.
A "dead" room will reduce reflection that masks your true tonal depth. Podcasters like closets for that reason.
Test your microphone beforehand. Adjust the gain or microphone level. Provide some distance--3 feet, 4 feet or 12 feet--from your device. Avoid distortion.
YouTube: You may choose the best whole, unedited take of each excerpt to include in your video.
School Instruments
Cal Poly maintains an inventory of high-quality instruments for use by students. This is especially useful for performers of the larger (or more expensive) instruments such as tuba, euphonium, and bassoon; however, it is also a great resource for great players who relied on high-quality, school-owned instruments while in high school.
Students who need an instrument for auditions should contact Professor Woodruff as soon as possible. The Cal Poly Music Use Fee is $20 per quarter, and this can be paid online via CP Portal. Once paid, students must forward the receipt to muoffice@office.calpoly.edu to ensure the Department can update the checkout request. An instrument may be temporarily issued for the audition, and then permanently checked-out or those students selected to participate in one of the concert bands. (Note: Students who need to use a school instrument are encouraged to sign-up for one of the later audition appointments in order to have as much practice time as possible on their new instrument.)
Schedule
The first full class meetings for Wind Bands (Wind Orchestra and Wind Ensemble) are currently set for will be Monday, January 9.
Audition results, including ensemble and chair assignments, will be distributed via email after auditions have concluded, December 9.
Class Enrollment
Students participating in our performing ensembles receive one unit of academic credit by enrolling in either MU 172 (Wind Orchestra) or MU 173 (Wind Ensemble).
It is not necessary to enroll in either course at this time. Once audition results have been announced, members will be given instructions on how to add the class (online) with a permission number provided by the director.
Frequently Asked Questions
I have been playing for years, but I have never performed an audition. Do you have any advice?

It is very common for new students to perform their very first audition here at Cal Poly.We are a very welcoming program, and are interested in meeting players at all levels of experience and ability. The audition packets are designed to provide an excerpt appropriate for every performer, from those who have taken lessons throughout high school to those talented and motivated players who only performed in their school band.

If you are new to auditioning, the best advice would be to choose excerpts that are good for you. Also, make sure that you have taken time to practice (the greatest source of anxiety during auditions is a lack of preparation; if you are prepared, you will be a lot less nervous!) Finally, remember that the person hearing your audition genuinely wants for you to succeed and do well. The goal of an audition is to learn about you as a person and as a performer; it is not intended to be stressful or intimidating.

If you have questions about your excerpts (rhythms, notation, etc.), please feel free to contact us. One of the directors would be happy to answer your question between auditions.

What should I wear for the audition?

There are no requirements with regard to attire during auditions. However, presenting a good image of yourself does have a positive impact upon the person hearing your audition. Our advice would be to go the middle route: clean casual or business casual with good personal grooming and hygiene.

There are so many excerpts in my packet! How do I know which ones to choose?

We wanted our audition packets to have "something for everyone". To that end, we have included a large number of excerpts from which you need only choose two. Obviously, the first time you look through the packet it may seem a bit overwhelming. However, if you spend some time looking through every selection carefully, the right ones for you should become obvious. Simply pick the excerpts which you feel best highlights your skills as a performer.

Please keep in mind that there are no wrong choices and the directors will never ask you to play anything in the packet other than your two choices.

Is each page (in the audition packet) a single excerpt? Or, are there multiple excerpts per page?

Excerpts vary widely with regard to length. Therefore, there are several instances in which there are two or three excerpts printed on a single page. Generally speaking, it should be very obvious as to the beginning and end of a single excerpt. However, if you need clarifications, please do not hesitate to contact Professor Woodruff. (Please include theinstrument and page number within the audition packet along with your question.)

Where can I practice once I am at Cal Poly?

The Music Building has several practice rooms on the first floor. Generally speaking, these rooms are available for use by music students who have paid the music use fee.

However, the practice rooms will be open the week before fall quarter classes begin and through the first week since for students to prepare for auditions.

As you might imagine, it gets fairly busy in the practice rooms during the academic work day; however, if you come by early in the morning or late in the evening, you should have no trouble finding an available practice room. (Please note that the Music Building is open until approximately 10:00 p.m. most nights.)

You may also use these rooms to warm-up prior to your audition. If none are available before your audition, please see one of the directors in room 210 and they will find you an alternative location.

Do you have any general audition advice?

The best advice is to "be prepared" and "be yourself". The directors are eager to hear your best playing and wish you the best.

Practice with a metronome: we are listening for good rhythm.
Practice with a tuner: we are listening for good pitch.
Practice with your favorite player in mind: we are listening for beautiful sound.
Video recording: be sure you are lit from the front and you are not over-playing the microphone.
Never begin your audition with an apology.
Demonstrate your ability to communicate musically.
Maintain a positive appearance even if you do not play well.
Be yourself.
Final Thoughts
If you have not already done so, please fill out our Online Interest Form. This form will provide us with the information necessary to keep you informed regarding such things as audition logistics, scheduling, and other important news about the Wind Ensemble and Wind Orchestra.
Students new to Cal Poly are also encouraged to read through this document, which contains additional information regarding our band program.