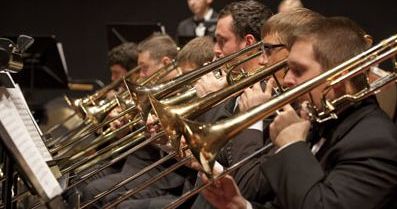 ---
BANDFEST 2017!
Cal Poly Wind Orchestra, Wind Ensemble and Mustang Marching Band
Sunday, November 12 - 3 p.m., Harman Hall
San Luis Obispo Performing Arts Center
A tradition for more than 20 years, Cal Poly's annual Bandfest concert features all of the wind bands on campus. The concert begins with the Wind Ensemble and Wind Orchestra in superior performances of both traditional and new literature written for concert band and wind ensembles. Then the powerful "Pride of the Pacific" marching band fills the concert hall with stunning arrangements performed at football games throughout the fall in Alex G. Spanos Stadium. The concert ends with a spectacular event featuring performers from all ensembles collaborating on stage together.
---
A NIGHT AT THE MISSION
Cal Poly Brass, Woodwind, and String Chamber Ensembles
Friday, February 9 - 8 p.m.
Old Mission Church, San Luis Obispo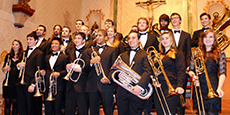 "A Night at the Mission" has become a popular event in our annual concert series. Cal Poly invites you an evening of beautiful music performed by our chamber ensembles in the Old Mission Church. This concert features performances by several groups such as the brass choir, small brass ensembles, trumpet ensemble, brass quintet, clarinet ensemble, saxophone quartets, string ensembles, woodwind quintet, and other mixed chamber groups involving brass, woodwoods, and/or string performers.
---
Featuring the 60-member Wind Ensemble and 65-member Wind Orchestra. The concert is the second in the season's series connecting "Earth and Sky," and will include two world premieres. The program will open with a new work for Cal Poly Brass Ensemble by music major Tyler Stockton titled "Quiet Reflection." The concert continues with the Cal Poly Wind Orchestra presenting works from the core wind band repertoire, including Pierre LaPlante's "American Riversongs" and William Schuman's "Chester." The second half of the program, presented by the Cal Poly Wind Ensemble, will include the world premiere of Mutsuhito Ogino's Concerto for Percussion featuring Cal Poly faculty member and percussionist John Astaire. The program will conclude with Vincent Persichetti's "Symphony," Malcolm Arnold's "Four Scottish Dances" and Igor Stravinsky's "Fireworks Fantasy." Christopher J. Woodruff, interim director of bands, will conduct the concert.
---
The performing arts are a means by which humanity moves itself beyond the earthly or the mundane. We strive for our highest form of expression through dance, theater and music. The works of Paul Hindemith and William Schuman have pushed the possibilities of the wind band medium. The Wind Orchestra and Wind Ensemble will end the season of performances with a program of compositions — familiar and new — that aim to extend our thoughts skyward, toward the future and into our dreams.