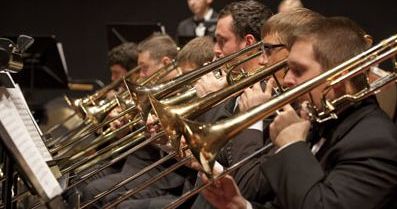 ---
BANDFEST 2018!
Cal Poly Wind Orchestra, Wind Ensemble and Mustang Marching Band
Friday, November 30, 2018 - 8 p.m., Harold J. Miossi Hall
San Luis Obispo Performing Arts Center
A tradition for more than 30 years, Cal Poly's annual Bandfest concert features all of the wind bands on campus. The concert begins with the Wind Ensemble and Wind Orchestra in superior performances of both traditional and new literature written for concert band and wind ensembles. The Cal Poly Chamber Winds will be introduced with Gordon Jacob's "Old Wine in New Bottles." Then the powerful Pride of the Pacific Mustang Marching Band fills the concert hall with stunning arrangements performed at football games throughout the fall in Alex G. Spanos Stadium. The concert ends with a spectacular event featuring performers from all the ensembles collaborating on stage together.
---
A NIGHT AT THE MISSION
Cal Poly Brass, Woodwind, and String Chamber Ensembles
Friday, February 8, 2019 - 8 p.m.
Old Mission Church, San Luis Obispo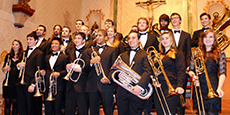 "A Night at the Mission" has become a popular event in our annual concert series. Cal Poly invites you an evening of beautiful music performed by our chamber ensembles in the Old Mission Church. This concert features performances by several groups such as the brass choir, small brass ensembles, trumpet ensemble, brass quintet, clarinet ensemble, saxophone quartets, string ensembles, woodwind quintet, and other mixed chamber groups involving brass, woodwoods, and/or string performers.
---
The musicians of the Cal Poly Wind Bands explore works that invite a consideration of the relationships among the four dimensions. The boundaries of Miossi Hall will be pushed — and pulled! Composers to be featured on the program include Libby Larsen and Joseph Schwantner.
---
We encounter wave behavior through numerous sensory experiences including sight, touch and aural experiences. Music has been described as the "transfer of energy," and in live performances, the energy moves in waves from the stage to the audience to excite not only the senses, but also the emotions. The Wind Orchestra and Wind Ensemble investigate the relationship between spectra of music and visual color through works by James Stephenson and Michael Colgrass.