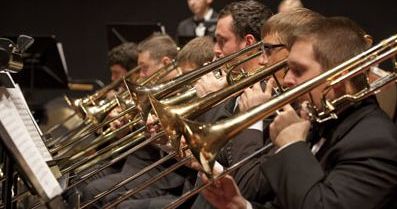 ---
BANDFEST 2019: Boston Brass!
Cal Poly Wind Orchestra, Wind Ensemble and Mustang Marching Band
Friday, November 15, 2019 - 7:30 p.m., Harold J. Miossi Hall
San Luis Obispo Performing Arts Center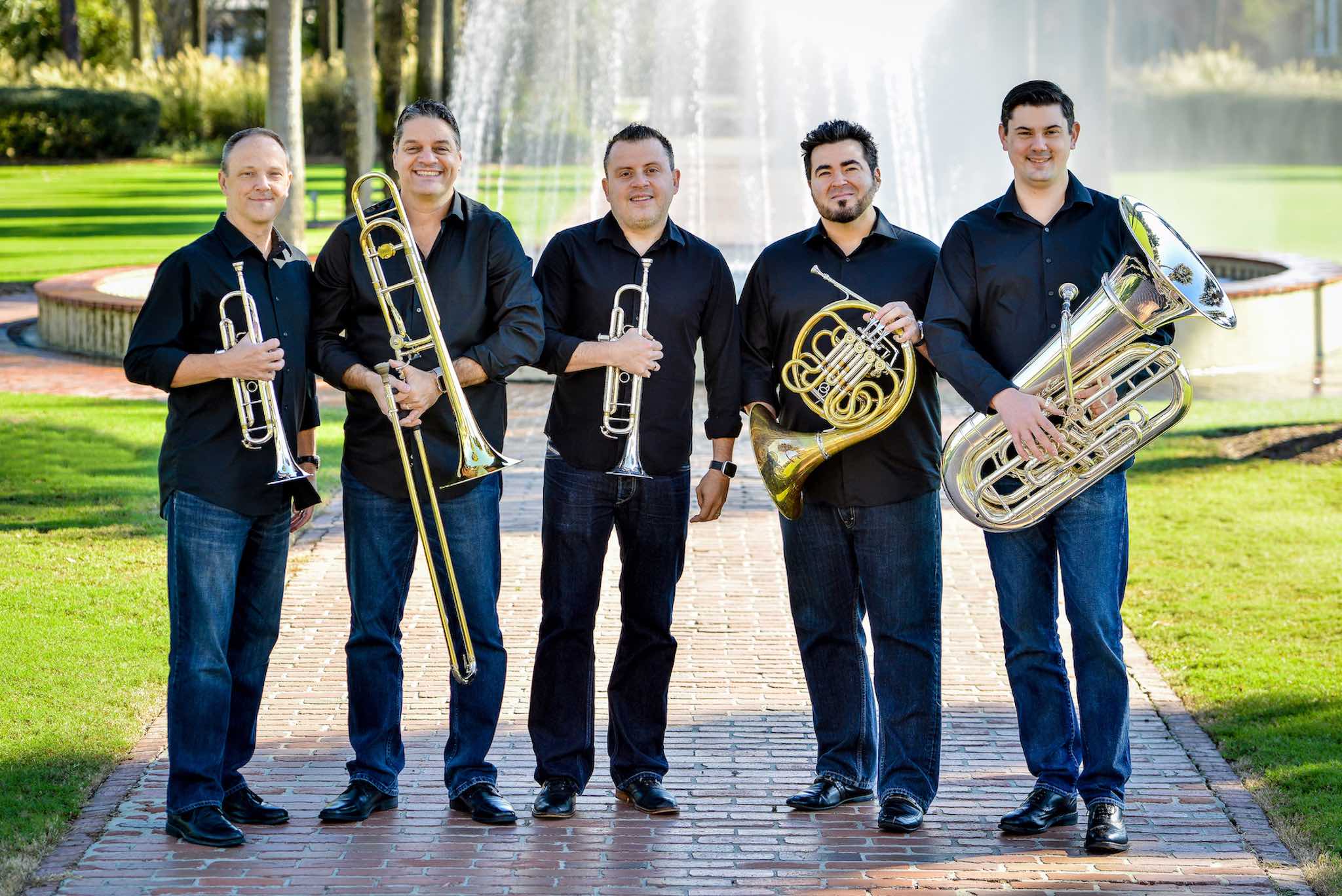 A tradition for more than 30 years, Cal Poly's annual Bandfest concert features all of the wind bands on campus. The concert begins with the Wind Ensemble and Wind Orchestra in superior performances of both traditional and new literature written for concert band and wind ensembles. Special guest artists Boston Brass will be featured with both bands. Then the powerful Pride of the Pacific Mustang Marching Band fills the concert hall with stunning arrangements performed at football games throughout the fall in Alex G. Spanos Stadium. The concert ends with a spectacular event featuring performers from all the ensembles collaborating on stage together.
---
NIGHT OF CHAMBER MUSIC
Cal Poly Brass, Woodwind, and String Chamber Ensembles
Friday, February 9, 2020 - 7:30 p.m.
United Methodist Church, San Luis Obispo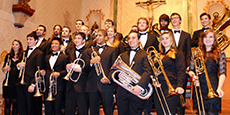 "Night of Chamber Music" has become a popular event in our annual concert series. Cal Poly invites you an evening of beautiful music performed by our chamber ensembles at San Luis Obispo United Methodist Church. This concert features performances by several groups such as the brass choir, small brass ensembles, trumpet ensemble, brass quintet, clarinet ensemble, saxophone quartets, string ensembles, woodwind quintet, and other mixed chamber groups involving brass, woodwoods, and/or string performers.
---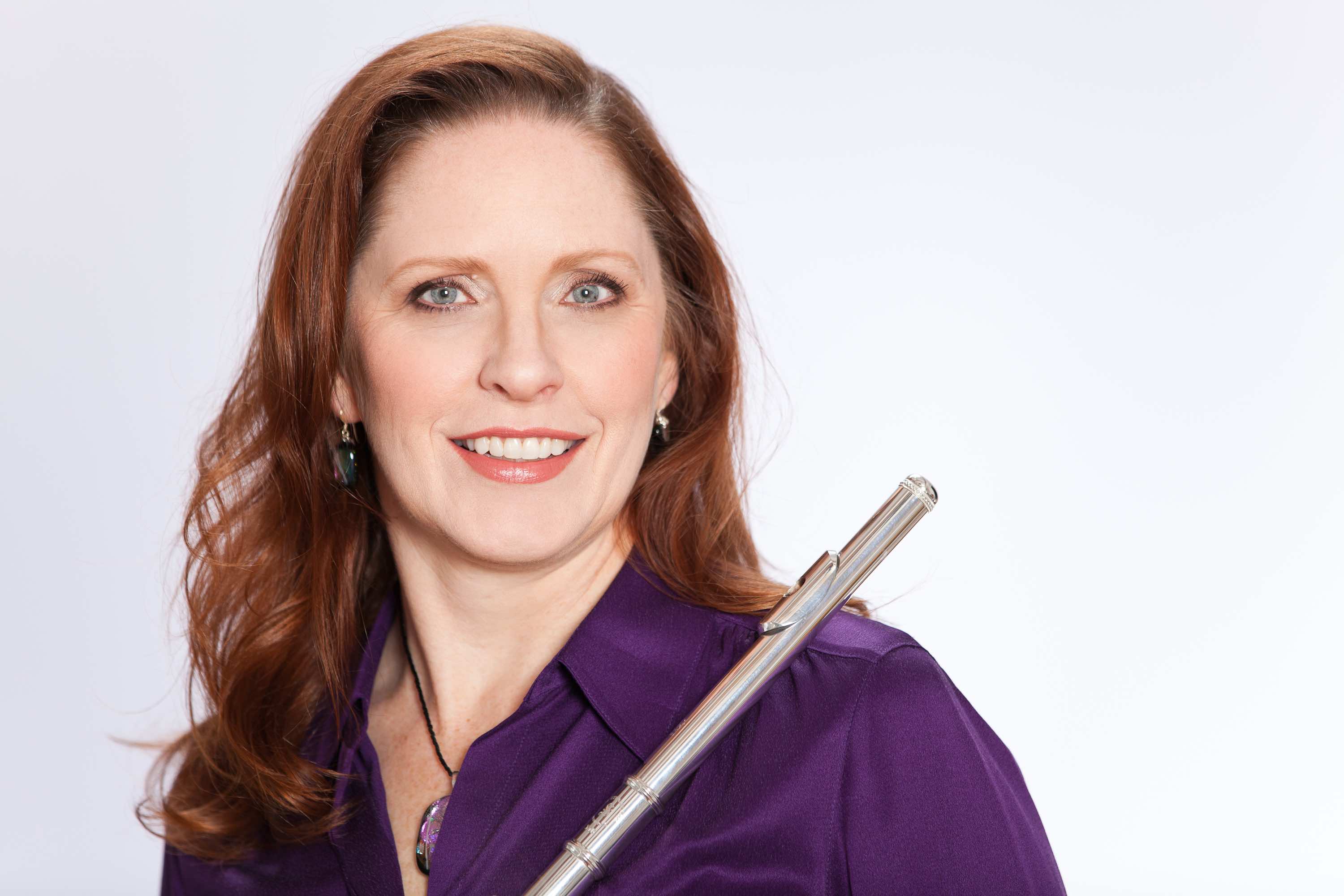 Cal Poly's Winter Wind Bands Concert will feature the 50-member Wind Ensemble and 55-member Wind Orchestra.The concert — the second in the bands' season series — is titled "Winds of Change." Music Professor Antonio G. Barata has composed a work with the same name that will be premiered by the Cal Poly Wind Ensemble.
"The composition's title is a triple-entendre, pointing at once to my life changes, the work's composition for wind instruments and percussion instruments, and its formal structure," Barata said.
Guest flute soloist Suzanne Duffy will perform Stephen Bulla's "Rhapsody for Flute" with the Wind Ensemble. Duffy, who teaches flute at Cal Poly, is an active orchestral and chamber music performer. She plays principal flute for Opera San Luis Obispo, Symphony of the Vines and Orchestra Novo. She maintains flute studios in San Luis Obispo and Santa Barbara.
The group will conclude its set with Frank Ticheli's "Blue Shades."
The Wind Ensemble will perform these works, and others, for the 2020 College Band Directors National Association Western/Northwestern Division Conference to be hosted March 18-21 at the University of Puget Sound in Tacoma, Washington. The ensemble is one of only eight selected to participate.
At the March 8 concert, the Cal Poly Wind Orchestra will perform music by John Philip Sousa, plus works from the expanded wind band repertoire, including Aaron Perrine's "Tears of St. Lawrence" and Steven Bryant's "The Machine Awakes."
The Cal Poly Chamber Winds will complete Robert Kurka's "Good Soldier Schweik Suite," the first part of which the group performed at the Bandfest concert in November.
---
The performing arts are a means by which humanity moves itself beyond the earthly or the mundane. We strive for our highest form of expression through dance, theater and music. The works of David Maslanka and Alex Shapiro have pushed the possibilities of the wind band medium. The Wind Orchestra and Wind Ensemble will end the season of performances with a program of compositions — familiar and new — that aim to extend our thoughts skyward, toward the future and into our dreams.
Would you like to know more?
All prospective and current Cal Poly students interested in joining the Wind Ensemble or Wind Orchestra should fill out our Online Interest Form.
We enjoy meeting new students and encourage you to send an email if you have any questions or plan to visit campus. Contact information for directors and all band faculty and staff can be found on our contacts page.