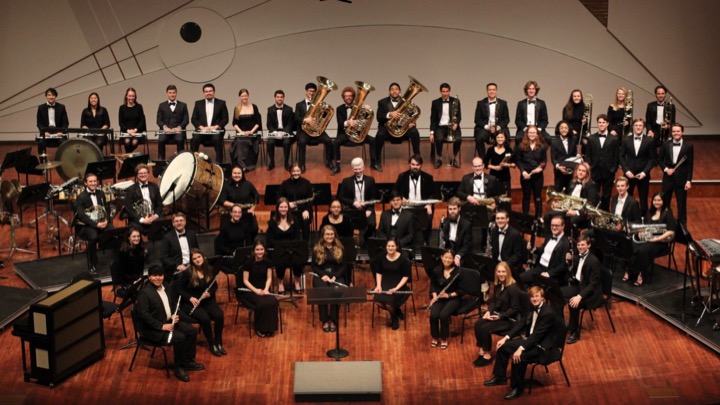 LIVE! In the Walt Disney Concert Hall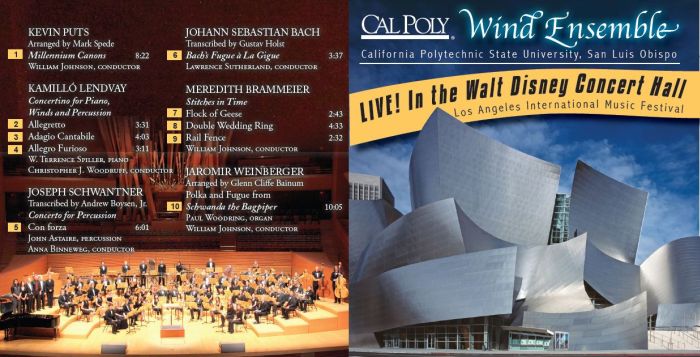 The Cal Poly Wind Ensemble's latest Compact Disc recording is entitled "Live! In the Walt Disney Concert Hall". Recorded professionally in the Walt Disney Concert Hall in Los Angeles in June 2010, this CD features student performers from nearly every department on campus. There are six works for Wind Ensemble included on the CD (10 tracks) which is being distributed by Mark Custom Recordings, Inc. It also comes with a beautiful 8-page booklet designed by Michele Abba.
In addition to works by composers Kevin Puts, Joseph Swantner, J.S. Bach, and Jaromir Weinberger, the recording includes a complete recording of Stitches in Time, a new work written by Professor Meredith Brammeier. This work is a musical portrayal of three popular American quilt patterns: "Flock of Geese," "Double Wedding Ring," and "Rail Fence." Just as a quilt is created from small pieces of fabric that combine color, texture, and pattern to form an integrated whole, this work intertwines short musical ideas using instrumental color, musical texture, and melodic and harmonic pattern to create a unified composition.
The CD includes several guest performers and conductors. Professor William T. Spiller is featured as a piano soloist in Kamillo Kendvay's Concertino for Piano, Winds and Percussion conducted by Christopher Woodruff, Cal Poly's associate director of bands. Professor Emeritus at Fresno State University, Lawrence Sutherland, joined the Wind Ensemble to conduct Gustav Holst's transcription of Bach's Fugue a la Gigue. Finally, Cal Poly alumnus and professional percussionist, John Astaire, performs a movement from Schwantner's Concerto for Percussion. This work is led by another Cal Poly graduate and conductor, Anna Binneweg. Both of these highly successful and amazing alumni graduated in 1998 with a major in music.
This compact disc also features William Johnson in his last official performance as the director of bands at Cal Poly. Mr. Johnson led the Cal Poly band program from 1966-2010. This spectacular CD represents a fond farewell, fitting for someone who has given so much of his life and energy to the music education of so many Cal Poly students throughout the past 44 years.
To order your copy, send a check for $10 (made payable to "Cal Poly"), along with your mailing address to:
Wind Ensemble CD Sales
Music Dept. - Cal Poly
One Grand Avenue
San Luis Obispo, CA 93407-0326