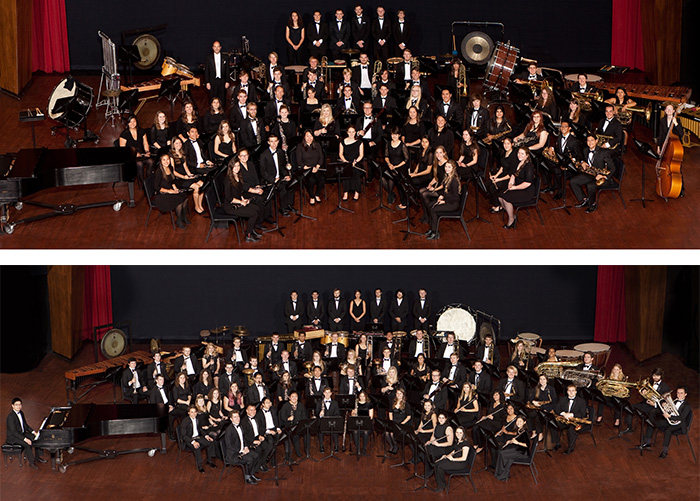 Nicholas P. Waldron to Cal Poly Associate Director of Bands
Nicholas P. Waldron is appointed Associate Director of Bands at Cal Poly, where he will oversee the Mustang Band and Wind Orchestra. He recently completed the Doctor of Musical Arts degree with honors in Wind Conducting at the University of Kansas School of Music where he studied with Dr. Paul W. Popiel. He served as a graduate teaching assistant in the Department of Bands, was the director of the Women's Basketball Band and assistant director for the Men's Basketball Band and taught conducting and music education courses. He holds a Master of Music Degree and a Bachelor of Music Education Degree from Indiana University, where he studied conducting with Stephen W. Pratt and bassoon with William Ludwig and Kathleen McLean.
Just prior to his time in Kansas, Dr. Waldron was an Associate Instructor in the Department of Bands/Wind Conducting at the Indiana University Jacobs School of Music. In this role, his responsibilities included teaching undergraduate conducting, directing athletic bands and guest conducting Indiana's three concert bands.
A native of Hudson, Ohio, he served as director of bands for Sheridan Community Schools in Sheridan, Indiana.  His responsibilities included teaching several concert ensembles, music education courses, and marching and pep bands.  Under his direction, the SCS ensembles received consistent first place finishes and Caption Awards in Class A at State Fair Band Day and unanimous superior ratings at music festivals. Dr. Waldron's professional memberships include CBDNA, Kappa Kappa Psi, the International Double Reed Society, and the Society for the Promotion and Research of Wind Music.
The Cal Poly Wind Ensemble and Wind Orchestra
With CD recordings and international tours, Cal Poly's Wind Ensemble and Wind Orchestra have established a wide reputation for musical excellence and often receive invitations to perform at music festivals and conventions in both the U.S. and abroad. The bands toured Europe performing throughout the British Isles and Ireland in 2013 as well as Eastern Europe in 2006. The ensembles have also performed in Los Angeles, Sydney, Tokyo, New Zealand, San Francisco, and at Carnegie Hall in New York City.
The Wind Ensemble has performed at the Western Division conferences of the College Band Directors National Association (CBDNA) and conferences hosted by the California Music Educators Association conference. The ensemble's first performance for the American Bandmasters Association (ABA) was in 1991, on the campus of Arizona State University. In 1997, the group again performed for the ABA Conference held in San Diego and then once again here in San Luis Obispo in 2007. The Wind Ensemble most recently performed for ABA in 2016 when Cal Poly once again served as host.