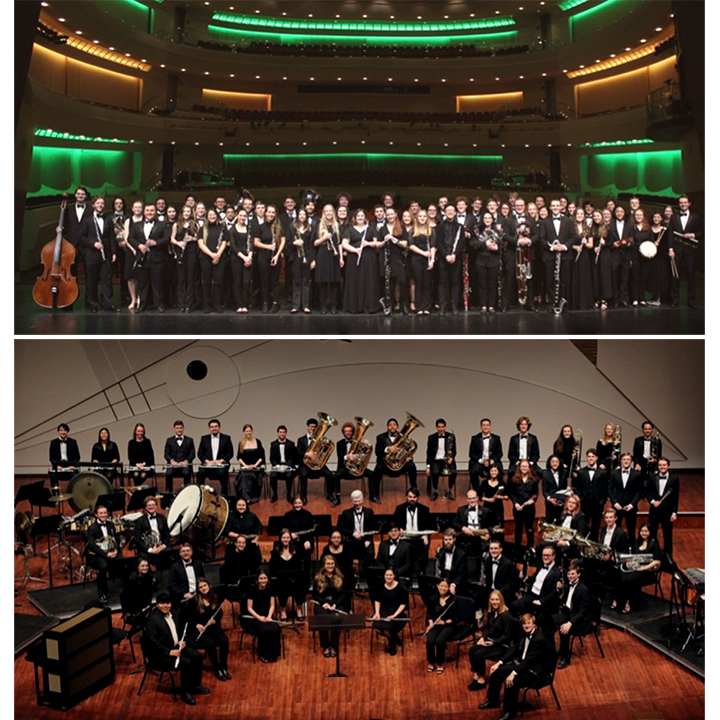 Virtual Open House Q&A Session
In April 2021, our student leadership and faculty were on hand to share about the opportunities in the University Band Program. The session was recorded to our Facebook page and questions entered in the chat!
Additionally, the wind bands' Interest Form is open and musicians are encouraged to let us know of their insterest in pursuing ensemble opportunities at Cal Poly. Go here to complete the Online Interest Form.
Cal Poly Wind Ensemble Invited to Perform for National Association
In spring of 2019, the Cal Poly Wind Ensemble received an invitation to perform at the CBDNA Western/Northwestern Division Conference to be hosted at the University of Puget Sound in Tacoma, Washington on March 18-21, 2020. The conference has been postponed to March 2022.
The fifty-member ensemble is one of a handful of bands representing the eleven states in the Division.
In keeping with Cal Poly's "Learn By Doing" approach, the Wind Ensemble concert will include a chamber piece led by the students. The performance will be conducted by Director of Bands Christopher J. Woodruff and Associate Director of Bands Nicholas P. Waldron.
The Cal Poly Wind Ensemble and Wind Orchestra
With CD recordings and international tours, Cal Poly's Wind Ensemble and Wind Orchestra have established a wide reputation for musical excellence and often receive invitations to perform at music festivals and conventions in both the U.S. and abroad. The bands toured Europe performing throughout the British Isles and Ireland in 2013 as well as Eastern Europe in 2006. The ensembles have also performed in Los Angeles, Sydney, Tokyo, New Zealand, San Francisco, and at Carnegie Hall in New York City.
The Wind Ensemble has performed at the Western Division conferences of the College Band Directors National Association (CBDNA) and conferences hosted by the California Music Educators Association conference. The ensemble's first performance for the American Bandmasters Association (ABA) was in 1991, on the campus of Arizona State University. In 1997, the group again performed for the ABA Conference held in San Diego and then once again here in San Luis Obispo in 2007. The Wind Ensemble most recently performed for ABA in 2016 when Cal Poly once again served as host.