The Cal Poly Wind Ensemble and Wind Orchestra
The Cal Poly Wind Ensemble and Wind Orchestra enjoys a national as well as international reputation for musical excellence. Each year, these ensembles perform several major concerts in the Christopher Cohan Performing Arts Center and often goes on national and international tours. Through numerous special invitations, the Wind Ensemble has performed in many of the world's finest concert halls including Beethoven Hall at the Musashino Academia Musicae in Tokyo, the Town Hall in Auckland, New Zealand, the Michael Fowler Performing Arts Centre in Wellington, New Zealand, the Sydney Opera House and the Town Hall in Sydney, Australia, Douglas College in Vancouver, British Columbia, the Herbst Theatre in San Francisco, St. John's Smith Square in London, and the Walt Disney Concert Hall in Los Angeles.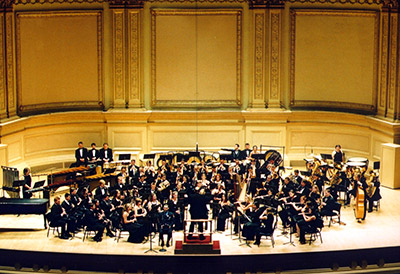 The ensemble made its debut in Carnegie Hall, in New York City on April 3, 2003 as a part of the New York City Wind Band Festival. In July, 2006, the Cal Poly Wind Ensemble and the PolyPhonics (university choir) went on an eighteen-day concert tour of Hungary, Austria, Germany and the Czech Republic performing in such halls as the Karlskirche Cathedral in Vienna and Smetana Hall in Prague. The combined ensembles also performed the opening concerts for the Mid-Europe Conference held in Schladming, Austria.
On several occasions the Cal Poly Wind Ensemble has performed at Western Division conferences of the College Band Directors National Association and the California Music Educators Association. The ensemble's first performance for The American Bandmasters Association (ABA) was in March of 1991 on the campus of Arizona State University. Other performances for the ABA were on March 5, 1997 in San Diego and March 7, 2007 in San Luis Obispo. The Wind Ensemble will once again perform for ABA in March 2016. On February 22, 2008 the Wind Ensemble performed an evening concert for the members of the California All-State Honor Bands and conference delegates of the California Band Directors Association.
The Cal Poly Wind Ensemble made its debut performance in the Walt Disney Concert Hall (Los Angeles) on June 22, 2010. The performance received rave reviews and is being distributed as LIVE! In The Walt Disney Concert Hall (CD) by Mark Custom.