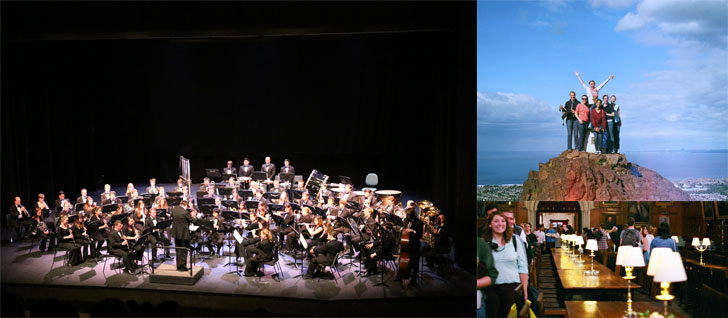 2013 INTERNATIONAL TOUR:
ENGLAND, IRELAND, & SCOTLAND
Cal Poly Band Shares Its Music in Tour Across England, Ireland, and Scotland
Music is simultaneously a domestic and international language — it bridges the divide between audiences across various cultures and age groups — it's a universal mode of communication that encompasses a versatility of sounds and traditions dating back to the earliest periods of history.
The Cal Poly Band Program was out to prove the inclusivity of music this summer on a tour across Ireland, England and Scotland. Taking place June 17-30, the tour included approximately 65 students from the Wind Ensemble, Wind Orchestra, and the Mustang Marching Band. Together, the group performed at various European venues such as Gleeson Hall in Dublin, the Royal Northern College of Music's theater in Manchester, and St. John's Smith Square in London. The groups were under the direction of Andrew McMahan, director of bands.
Musicians were also given the opportunity to learn about the areas in which they were performing by exploring the location on their own or through guided tours and lectures. Students visited such high-profile locations as Stonehenge; Christ Church College, a filming location for the Harry Potter films; and St. Paul's Cathedral, the location of Prince Charles and the late Princess Diana's wedding.
Not only do trips of this scale benefit the campus community by building recognition for the university abroad, but they are also a part of the Music Department's tradition. Since 1975, the Cal Poly band has traveled to various locales as guest performers: Japan in 1988, Australia and New Zealand in 2000, New York City (Carnegie Hall) in 2003, and Eastern Europe in 2006. Each trip equips students with experiences that contribute to their understanding of multiculturalism and a developing global prospective.
Combining U.S. culture with that of the trip's destinations, the group performed musical pieces from both American and British composers. Selections by Gustav Holst, John Philip Sousa, Gordon Jacob, and Julie Giroux were featured.
For the Cal Poly Band Program, the music never stops, no matter where they are. The department hopes to continue the traveling tradition for years to come, introducing many more students to the potential music holds. If you would like to help support opportunities like this, visit the Music Department website for more information.
Additional Information